When fly-over snapping is enabled and multiple entity snaps are on, you can press Tab to cycle through the available entity snap points of the entities covered by the tar­get box. For example, when the Endpoint and Midpoint Snaps are on and the aperture box is located on a line, press Tab to cycle between the line's closest endpoint and midpoint.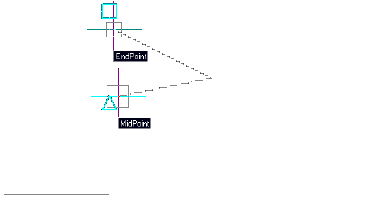 To set the fly-over snapping options
1 Do one of the following to choose Drawing Settings (

):
• On the ribbon, choose Application button > Drawing Utilities; Home > Drawing Settings (in Utilities); or Tools > Drawing Settings (in Manage).
• On the menu, choose Tools > Drawing Settings or choose Tools > Entity Snap > Entity Snap Settings.
• On the Tools toolbar, click the Drawing Settings tool.
• Type dsettings and then press Enter.
2 Click the Coordinate Input tab.
3 Click the Entity Snaps tab.
4 Click Display Options. The Options dialog box opens to the Snapping tab.
5 Mark Enable Fly-Over Snapping to turn on fly-over snapping.
6 Set the fly-over options, including the color, size, and thickness of the snap marker.
7 Click OK.
8 Click OK again.
See also...