When calculating the distance between points using the Distance command, it is often helpful to use entity snaps to specify precise points.
To calculate the distance between two points and their angle
1 Do one of the following to choose Distance (

):
• On the ribbon, choose Tools > Distance (in Inquiry).
• On the menu, choose Tools > Inquiry > Distance.
• On the Inquiry toolbar, click the Distance tool.
• Type distance and then press Enter.
2 Specify the first point.
3 Specify the second point.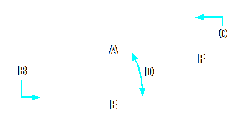 Use the Distance command to calculate the distance (A) between two points (B and C), the angle in the xy plane (D), the angle from the xy plane, and the delta x (E), delta y (F), and delta z distances between the two points.